Devil's Tuning Fork
A downloadable game for Windows
What if you saw the world with your ears? Devil's Tuning Fork is a first-person exploration/puzzle game in which the player must navigate an unknown world using visual sound waves. Inspired by M.C. Escher's classic optical illusion and the echolocation of dolphins, The Devil's Tuning Fork allows the player to explore a new mode of perception through sound visualization.

As a mysterious epidemic causes children everywhere to fall into comas, one child wakes up in an alternate reality. It is up to this child, the player, to determine the cause of the epidemic and save the other children trapped here. By way of the devil's tuning fork, a magical instrument that allows the player to perceive sound waves, the player must find all the children and successfully escape this alternate reality, thereby waking up from the coma.

Setup by five faculty members at DePaul University, DePaul Game Elites was formed in Summer of 2009 in order to make a game that could compete in the IGF Student Showcase. The team was recruited among the graduate and undergraduate students at DePaul.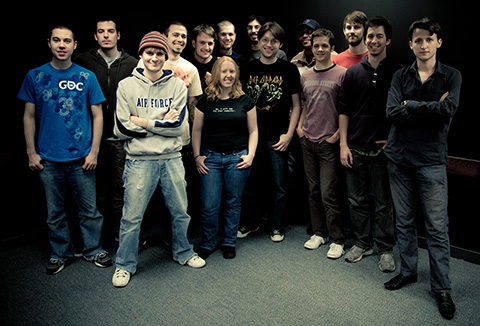 In Dedication to Richard Kossak.